Rain Bird Central Control Systems
Rain Bird® Central Control Systems are designed with ease of use in mind. These systems effectively integrate advanced technologies and optional software to arrive at solutions that manage water use responsibly to save money and reduce utility costs, while continually enhancing course appearance and improving playability.
Cirrus™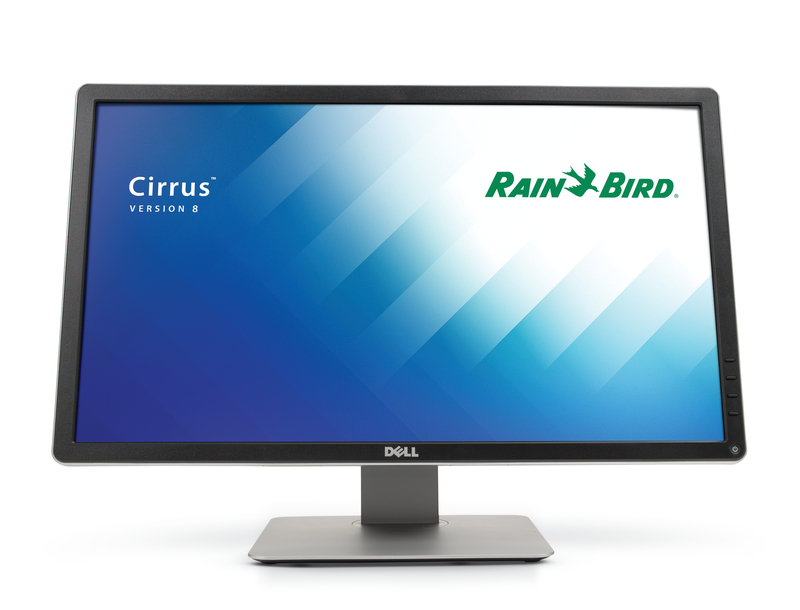 Cirrus serves as the intelligent control for many of golf's most sophisticated irrigation systems. By combining computer‑aided design with GPS geo-referenced images and state-of-the-art ET‑based scheduling, it delivers all the most innovative features that highly‑demanding courses expect.
Nimbus II™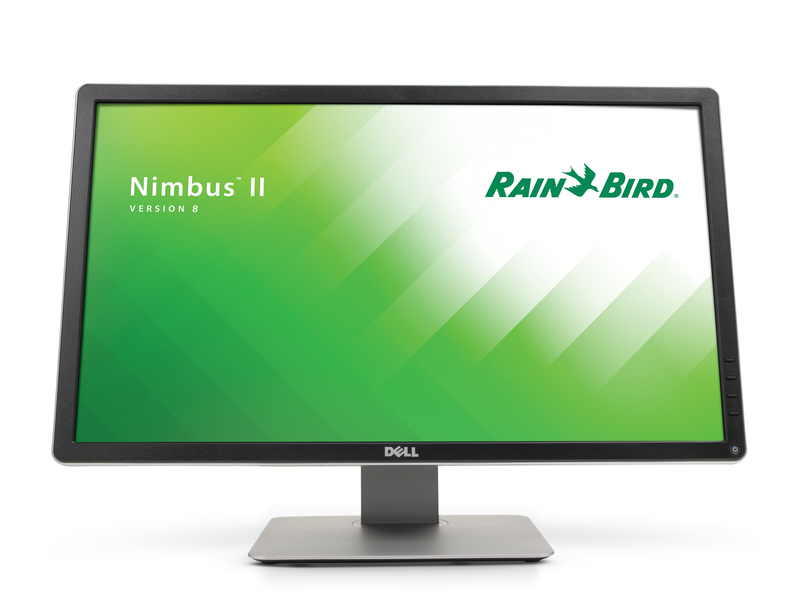 Combining advanced features with simple operation, Nimbus II is a good choice for courses that want to save time and effort while maintaining premier playing conditions. ET-based scheduling and advanced flow management ensure users get the most from every drop of water.
Stratus II™ and StratusLT™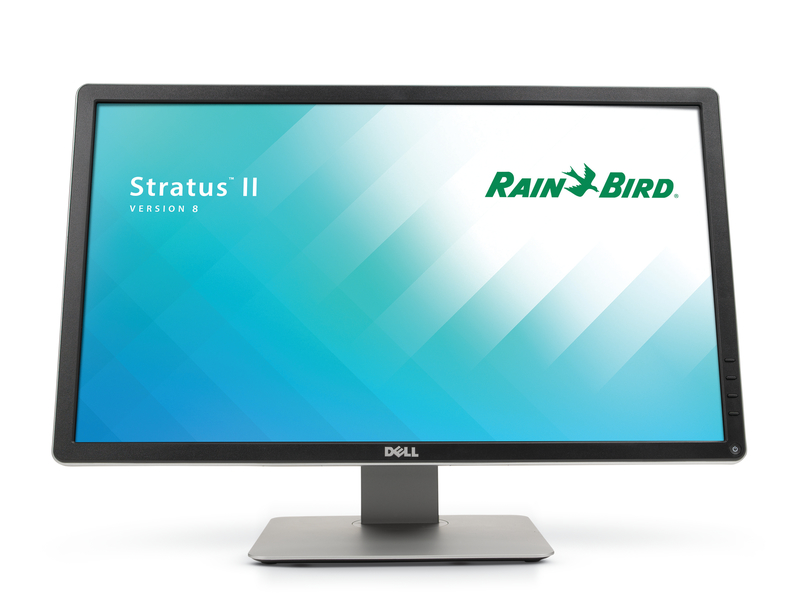 The Stratus platform is an excellent choice for simple time- or ET‑based scheduling. With Stratus, you can start with the basics any course needs to efficiently maintain lush conditions on any course, or upgrade to advanced features if you want more sophisticated irrigation management.
Rain Bird Advanced Control Technologies
Rain Bird® Advanced Control Technologies are designed with ease of use in mind. From soil sensing to pump management with our powerful central control, we offer a full range of solutions that integrate advanced technologies and optional software. With their help, you can manage water responsibly, save money and reduce utility costs, while continually enhancing course appearance and improving playability.
The Rain Bird® Integrated Sensor System™ (ISS) gives
you absolute control over your turf
Every golf course is its own complex ecosystem. To provide a consistent, playable environment, you need an accurate understanding of turf health. The Rain Bird® Integrated Sensor System™ offers a snapshot of soil conditions to help you to understand what is happening below ground. It is also the only system in the industry to deliver easy-to-install absolute soil sensing and full integration with the central control system. As a result, you'll save more time, water and money with Rain Bird.
MI Series Mobile Controllers
Remote access to your central control is now as convenient as the Internet, with mobile control. This software runs on your central control computer to provide remote irrigation control via a web‑enabled device or smart phone. Rain Bird® MI series mobile controllers are designed to work on a smartphone or tablet with Internet connectivity and offer far more remote options than anything else available. Once connected to the Internet, up to nine (9) remote users can simultaneously control sprinklers and programs, review system activity or directly change settings on both sprinklers and irrigation programs. All activity is logged at the central control for convenient review. MI series mobile controllers now also include MI FREEDOM user interfaces. MI FREEDOM provides two smartphone interfaces for users to implement traditional The FREEDOM System™ commands: 1) Handheld radio keypad for users with years of handheld radio keypad experience. 2) Soft keyboard interface for use of The FREEDOM System commands on a standard smartphone virtual keyboard.
The FREEDOM System™
The FREEDOM handheld provides reliable, two-way communication with your Rain Bird system. Use it to choose from command‑based or schedule‑based operations, making irrigation adjustments a snap. Either way, The FREEDOM System puts you in control of your irrigation management system wherever you are.
System Features and Benefits:

Two-way Communication with Rain Bird Centrals. Audio response at radio indicates command received by central.

Station- and Program-based Commands. Provides the flexibility to turn ON or OFF any station or an entire area with the click of a few buttons.

FREEDOM-based Commands Recorded at Central. Irrigation activity logged at the central whether stations turned ON with FREEDOM System.
or with central.

Optional Flo-Manager® Bypass. Permits FREEDOM user to bypass Flo-Manager.

Optional Operating Window. Allows user to define FREEDOM usage hours, which helps superintendents to control irrigation activity.

Two-Way Voice Communication

Telephone Operation. All FREEDOM
Pump Manager 2
Rain Bird® Pump Manager 2 is engineered for the golf course professional looking to simplify pump control, monitoring and data reporting. This powerful software application gives you full control of your pump station from your computer or central control.
Weather Stations
Rain Bird offers two Weather Station options to help meet your course's unique irrigation management needs. Both WS-PRO2 and the WS-PRO LT provide evapotranspiration (ET) management and reporting capabilities; while only the WS-PRO2 offers optional intelligent alarm and irrigation control responses through Rain Bird's powerful Smart Weather™ software.
Rain Bird Field Control Systems
Rain Bird® Field Control Systems are engineered to deliver the trusted performance that golf course professionals need to optimize course appearance and playability. From best-in-class satellite‑based systems to reliable field decoders to the dynamic IC System,™ Rain Bird offers a full range of solutions. Choose Rain Bird field control for easy irrigation scheduling, adjustment and maintenance.
Integrated Control System™ (IC System) Rotors and Valves
Now, Integrated Control Technology is built into the rotor and valve for easy, streamlined control. The Rain Bird® IC System™ connects central control directly to the rotor or valve. No field controllers, separate decoders, secondary wiring or unnecessary splices mean fewer areas that can breakdown, wear out or malfunction.
PAR+ES Controller
The easy-to-program, central control-ready Rain Bird® PAR+ES Controller features 72-Station capability, unlimited programs with central control, standard premium surge protection, extensive diagnostics and a best‑in‑class pedestal enclosure.
PAR+ES Sat Decoder
The PAR+ES Sat Decoder combines the features and benefits of a controller system with those of a decoder system. The resulting advantages for the user include:

Easy Installation

Reduced Installation Costs

Easy Expansion
ESC-1 Controller
Get the power of advanced water management in one, easy-to-use package with the full-featured ESC‑1 Controller. This golf-quality, value‑priced controller features four programs, a real-time calendar, RASTER™ troubleshooting technology and the best customer satisfaction program in the industry.
FD-101, FD-102, FD-202, FD-401 and FD-601 Decoders
A technology long-since proven on golf courses around the world, Rain Bird decoders provide best-in-class field control on centrally controlled irrigation systems. Installed underground and featuring simple, low‑cost wiring, decoders are an aesthetically pleasing, full‑featured, economical option for reliable in‑field control.
Rain Bird Gear-Driven Rotors
Rain Bird® Gear-Driven Rotors are engineered to efficiently manage water, while promoting a lush, highly profitable course, through minimal maintenance requirements, worry-free performance and maximum water distribution uniformity. Trusted by golf course professionals everywhere, particularly those in drought‑prone areas, these innovative rotors deliver optimal playing surfaces, high durability and reduced water costs.
Gear-Driven Rotors
Rain Bird® 700/751 Series Rotors
Get more from every rotor with Rapid‑Adjust Technology featuring MemoryArc.® Available on Rain Bird® 751 Golf Rotors, this innovative feature allows you to easily adjust watering on greens, fairways or roughs for unmatched versatility and more precise watering.
FEATURES AND BENEFITS
Turn-of-a-Screw Flexibility:
Rain Bird 751 golf rotors offer easy, top-adjustable rotation settings that retain the memory of their part‑circle arc setting when shifting between full- and part-circle operation. This unique feature is designed to offer quick, dry arc adjustments not just during grow-in, but for the life of the rotor.
Proven Rain Bird Performance:
The Rain Bird 700/751 series features the high efficiency nozzles you've come to expect from the industry leader and delivers the best performance yet from Rain Bird golf rotors. With large droplets that cut through harsh winds and consistent pressure regulation, Rain Bird rotors deliver the even distribution you need to guarantee a healthy playing surface.
Industry-Leading Durability:
Rain Bird 700/751 series golf rotors deliver improved durability. Trust their rugged construction for year after year of reliable, hassle-free performance.
Backward Compatibility:
Rain Bird 700/751 series golf rotors offer backward compatibility with every 700 series EAGLE™ Rotor manufactured since 1992. Saving precious time and money is as simple as dropping new Rain Bird 700/751 Series internal assemblies into your existing rotor cases.
Low Cost of Ownership:
Rain Bird golf rotors offer a low cost of ownership through a powerful combination of versatility, performance and durability. Install 700 and 751 golf rotors to optimize water consumption, simplify operation and minimize replacement, maintenance and inventory costs.
Swing Joints
Looking to enhance the performance of your golf course irrigation system? Rain Bird® Swing Joints are the perfect solution. Featuring superior flow characteristics and excellent structural integrity, these swing joints are designed to deliver the performance you expect from Rain Bird while saving you money. They are available in a wide range of configurations. Rain Bird Swing Joints are the perfect complement to our golf series rotors.
Rain Bird Valves
Rain Bird® Valves are ruggedly reliable and expertly engineered to provide an elevated standard of product integrity that is unmatched in the industry. Constructed of industrial-strength glass-filled nylon or classic brass, Rain Bird Valves are designed to withstand the harshest environments, and the lasting, trouble-free performance continues to earn the trust of golf course professionals worldwide.
Rain Bird Service Tools
Rain Bird offers a full line of quality tools for the service and maintenance of Rain Bird Golf Rotors. Constructed of heavy-duty metal alloys and durable plastic, these tools are lightweight and easy to use.
Rain Bird Pumps & Filtration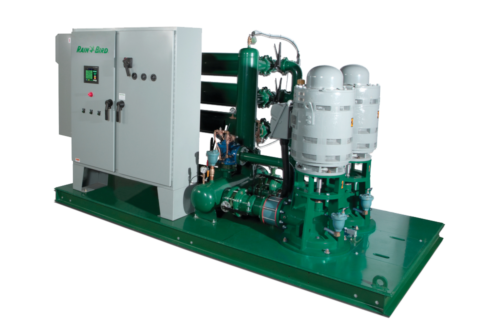 Rain Bird applies its industry leading irrigation expertise to the design and manufacture of pump stations and filters to provide solutions to meet customer requirements. By doing so, Rain Bird is the only irrigation manufacturer able to provide totally integrated irrigation solutions, Reservoir to Rotor. Rain Bird's solutions reliably and dependably deliver a more playable course, while lowering operational costs. Rain Bird offers a variety of pump station options to meet your needs. From main irrigation pump stations for flows up to 10,000 GPM and water feature pump stations for flows up to 10,000 GPM and greater, to intermediate flow pump stations with flows up to 750 GPM and enclosed low flow pump stations for flows up to 300 GPM. Pump stations from Rain Bird feature a reliable Variable Frequency Drive (VFD). VFD Technology has proven to be the most efficient in reducing energy costs and minimizing system wear.
Unequaled Quality and Performance
Remote Pump Station Access
Rain Bird's user interface is a network ready design that allows for remote access via PC, laptop, tablet, smart phone, or any web-enabled mobile device. These devices are simple to navigate, properly formats to the screen of the device being used and allows for complete control and monitoring of your golf Pump Station. This remote accessibility provides Rain Bird customers the confidence to control their pumping systems when they are away from the course.
Electrical Design
Rain Bird® pump stations are built to UL508A standards and use the industry's best surge suppression reducing the risk of electronic component damage that could lead to inconvenient and costly downtime. This design includes full heavy-duty circuit breaker integration providing the ultimate protection with the best serviceability.
Backup Pressure Regulation
Every station comes with an engineered design and properly sized pressure relief valve to provide automatic pressure regulation in the event of an overpressure situation.

VFD Per Motor (VPM) Option
Rain Bird offers the industry's most comprehensive package upon request, including a VFD for each main motor on a multi-pump station. This option offers superior motor protection along with no mechanical switching components. It also provides a level of efficient backup pressure regulation that a pressure relief valve or butterfly valve cannot deliver.
Durable Polyester Powder-Coating
Rain Bird's in-house steel-grit blasting system assures all exterior surfaces of the pump station are prepared to specification standards and allows for the best coating adhesion. The polyester powder-coat Rain Bird applies is far more durable than competitive solvent-based multi-layer coatings. In fact, Rain Bird's powder-coating process scores a 10 out of 10 on an ASTM corrosion test provided by Sherwin Williams. Other industry pump stations scored four (4) out of 10 on the very same test. In addition the powder‑coating process is considered very environmentally friendly.
Engineered Pump Station Skid Design
Using 3D modeling, the channel steel skid frame is engineered for strength and rigidity. This engineered design reduces vibration and eliminates the need for raised, extra‑thick steel plates under the pump heads, which can be a trip hazard. The deck is the industry's strongest and longest lasting with continuously welded smooth steel plate. In addition, Rain Bird follows industry standards and manufacturer's recommendations for station components such as the proper specifications for flow meters.
Advanced Controls
With the industry's leading touch screens, Rain Bird continues to innovate by offering the largest screen as a standard. Beyond being network ready, this interface offers up to 20 years of historical memory capability and USB backup. With features such as filtration integration, water feature control, lake level control, pump lockouts, auto set point adjustment per pump, motor starts protection, and many more, Rain Bird has driven pump station innovation in the Golf Industry for the last decade.
Real-Time System Integration
Rain Bird pump stations have Pump Manager 2 and Smart Pump™ technology at the central control, so you can configure your system to automatically monitor and self-adjust to changing conditions. This seamless integration by Rain Bird improves your system's overall performance by reducing watering windows and minimizing energy use.
Pump and Motor Options
Rain Bird offers custom designed cast iron discharge heads for golf irrigation pump stations. With superior flow characteristics and 12 times the required tensile strength for golf pump stations, they are the obvious choice for the application. Rain Bird utilizes G.E. motors with industry-leading warranties, efficiencies and durability.
Air Relief
Rain Bird provides air relief on each pump. Individual air relief valves allow for the maximum amount of air to be removed from the pump columns and not enter into the irrigation system.
User Controls
Rain Bird pump stations have set the bar with simple, large-icon touchscreen controls in nine (9) different languages. Each pump has a lighted, three position Manual–Off–Auto switch for intuitive, safe backup control of the station.