Homeowners are continuing to spend more and more money on their homes and more specifically their backyards. Benefits often include a greater return for their property and another living space for their family and friends to gather. Now with new technology, outdoor living spaces can be enjoyed longer throughout the year. From innovative landscape lighting systems to fire features and outdoor heaters – no longer will you need to bring the party indoors when the sun sets. With 2019 in our rear view and following the leads of some of the top outdoor living manufacturers in the industry, we have come up with 5 trends that will continue to reign in 2020.
Landscape Lighting: FX Luminaire Luxor Control System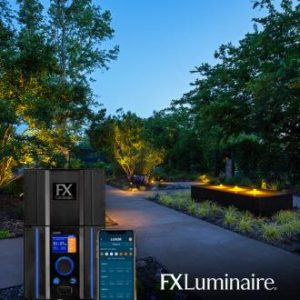 When Luxor controls an LED landscape lighting system, lights don't simply turn on and off. They come alive. As FX Luminaire's premium lighting control option, Luxor is the most advanced and flexible low-voltage landscape lighting transformer on the market. The controller incorporates zoning, dimming, and color control capabilities into a single control system using a simple two-wire path installation. Easy for the contractor to install and even easier for the customer to use. The zoning and dimming capabilities provide virtually limitless design possibilities. See more on how it works, here.
Luxor Control System
---
Porcelain Pavers:
Large slabs, sleek finish, and superior performance are just some of the many reasons why more and more homeowners are looking to porcelain pavers for their hardscape project. Exterior grade porcelain pavers are made thicker and therefore more durable when compared to traditional tile. They're also frost, skid, and stain resistant, which is why they are often selected for pedestrian walkways, entrances, pool decks, roof decks, and other outdoor living spaces. Belgard and Unilock, both offer a vast variety of colors, shapes, and styles. Check out their product offerings here,
Porcelain from Belgard
Porcelain from Unilock
---
Water Features: Atlantic Water Gardens & Oase Living Water
When you imagine an outdoor living oasis, what do you hear? The sounds of rushing water from a water feature plays to the senses and adds to a relaxing environment. Another huge benefit, if the home or project takes place in a busy part of town, the sounds from the water feature will drown out the sounds of rushing cars. Atlantic Water Gardens and Oase have recently come out with new flexible fountain basins, nozzles, spouts, copper spillway bowls, and more. Create a totally custom water feature with ease. Learn more about the new products from Atlantic Water Gardens and Oase here,
New from Atlantic Water Gardens
New from Oase
---
Natural Stone for Outcroppings and Retaining Walls: FourMile Sandstone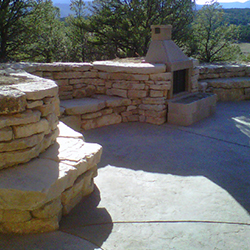 Quality Natural Stone is timeless and will never go out of style. More and more designers are bringing the natural into their more modern designs to create an interesting contrast of textures, shapes, and colors. Sandstone outcroppings and boulders can be used to create a separation of spaces or used creatively for intimate seating around a fire feature.  Backyards with severe slopes can also benefit greatly by using these unique boulders for a stylish retaining wall. No stone is the same, offering a one-of-a-kind look to every application. Learn more about our Sandstone product line here,
Four Mile Sandstone
---
Fire Features: Warming Trends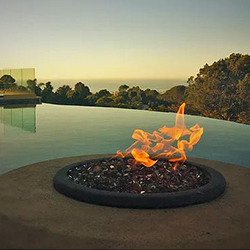 Fire features aren't new, but the demand for them continues to grow in the outdoor living market. Homeowners are spending more money on their backyards to create their very own and unique staycataion for their family and friends. With Warming Trends CrossFire Brass Burner collection, Outdoor Living Professionals can build a totally custom fire feature that fits seamlessly with the design of the space and the needs of the customer. With this product you can give your customers a fire feature that they can count on for a taller, fuller and more natural flame. Learn more about the CrossFire Brass Burner here,
CrossFire Brass Burners
---
Stay tuned for more product highlights and trends. 2019 is just getting started and we are excited to see how pioneering technology and timeless design continues to work together to create innovative products for the outdoor living market.