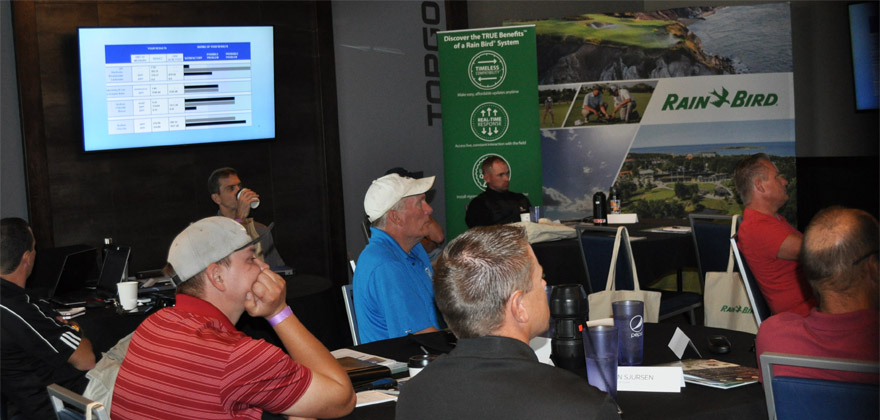 The 2nd annual CPS Golf Summit was held on August 23, 2018 at TopGolf in Centennial, CO. Each year, CPS partners with Rain Bird to hold this event for Colorado golf turf professionals interested in learning about new technologies in irrigation and turf management from Rain Bird golf division specialists and other manufacturer representatives. The Golf Summit creates a perfect platform for open dialogue between industry professionals and manufacturers in which attendees can ask questions and also provide valuable feedback for the manufacturers to improve their products. After a morning educational session, attendees were then treated to some TopGolf fun as they played various games on the TopGolf driving range. The event was an amazing success! The presentations, q & a sessions, and networking opportunities will surely prove very valuable for all involved in the future.
This year, various Rain Bird representatives were present to explain in detail their area of expertise. Rain Bird Golf product topics ranged from GSP, Marketing 360, IC, Pumps & Pump Maintenance, and the MI Software program. Attendees were also presented with a futuristic wave of turf and water treatment technologies such as the use of water magnets to enhance water quality and organic bio-stimulant products to improve their soil function. Additionally, pump service providers Arvada Pump were on hand to explain their services and how pump maintenance and routine service can avoid catastrophic pump failure.
Here's an overview of discussed topics throughout the morning educational session:
Rain Bird Golf GSP (Global Service Plan)
Rain Bird's Scott Elwood kicked the event off by providing an overview of Rain Bird's Global Service Plans (GSP) and the importance of GSP database backup automation. Scott told a true story of a clubhouse that burnt down and luckily had an updated backup of their GSP database to revert back to. He explained new features and enhancements as well as expanded support hours and mentioned the current GSP promotions being offered.
Learn more about Rain Bird Golf GSP's →
Rain Bird 360 Marketing & Company Overview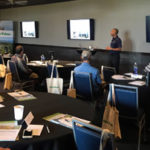 Next up was Jeff Lawson from Rain Bird. Jeff went into detail about the rich history of the Rain Bird Golf division. He pointed out that 7/10 of the top golf courses in America choose Rain Bird irrigation products. Jeff explained the benefit of subscribing to the Rain Bird 360 newsletter and how customers could leverage the information in the newsletter to improve their operations. A highlight of Jeff's presentation was when he explained Rain Bird's testing facility and the measures they go through to test their equipment. For example, Jeff explained that they will bury a golf rotor in 6" of sand and run it continuously to test it's durability.
Subscribe to the Rain Bird 360 Newsletter →

Rain Bird IC Connect™
The following presentation on Rain Bird IC (Integrated Control) Connect System was offered by Brett Ramsey. After explaining the capabilities and technical details of the integrated control sensor input device, Brett provided specific usage examples ranging from the simple applications like using a rain can to create an intelligent response to a rain event to more advanced examples like how Admiral Hills utilized a FloWatch hydrometer to monitor the amount of water that their HOA used. Another example was when Pebble Beach utilized the IC System to determine when their system was in vacuum or blow mode. The system was also used by Pebble Beach to prevent any possible pipe bursts during a backflow/re-pressurizing system. In closing, Brett spoke about wind-tollerant nozzles and when and when not to use them.
Learn more about Rain Bird IC Connect™ →

MI Series Mobile Controller
Chris Dunlop presented new features and enhancements of the MI Series mobile controller and software that allows golf course professionals to have remote access to their central control via a web-enabled device or smart phone. Chris created specific golf course scenarios that showcased the flexibility of the software program. For example, if you needed to shut down the watering in one specific area while a group of golfers came through.
Learn more about Rain Bird MI Series Controller →

Rain Bird Pumps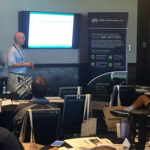 Bryan Weemes and Bill Stinson presented an overview of Rain Bird pumps. Bill emphasized the capabilities that Rain Bird has to customize pumps for a courses specific needs and flexible financing options that make pump installations obtainable for courses on strict budgets. Bryan shared his experience maintaining pumps over the years and emphasized the importance of greasing pumps routinely to their specifications. Overgreasing or undergreasing a pumping system can have some catastrophic results.
Learn more about Rain Bird Golf Pumps →

Use of Biostimulants to Enhance Soil Function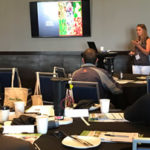 Whitney Sjostrom provided a crash course on biostimulant products and their role in enhancing soil function by spiking microbial activity. Whitney gave a brief overview of the cycle of nutrients and explained how the use of a biostimulant product such as AgPro Technologies could greatly reduce the need for fertilizers. Whitney closed with a Q & A session where one of the attendees explained that he was currently using this product and as a result he has only had to apply fungicide once.
Learn more about AgPro Technologies →

Water Magnet Technology
Ed Mathieu & Brian Robbins of Maximum H20 explained how magnetic science is being used to make water extremely productive for turf. Ed discussed how water quality is an often ignored, but essential factor to smart irrigation practices. Attendees learned that water enhancing magnets are highly utilized in the agricultural industry. Golf course turf professionals are often asked to do a lot with lousy water conditions, and using magnets to deliver more oxygen and nutrients is a new technology that golf courses are starting to use.
Learn more about Water Magnet Technology from Maximum H20 →
The 2018 Golf Summit was a tremendous success. CPS distributors extends it's sincerest gratitude to all of our event organizers, presenters and attendees that made the event possible. CPS partners with golf course professionals to offer the very best in Rain Bird Golf products along with a full range of fertilizers, turf covers, landscape materials, landscape lighting and everything else you'll need on the course or around the clubhouse to be successful in maintaining your golf course. If you would like to learn more about a partnership with CPS, please visit our Become a Customer page.