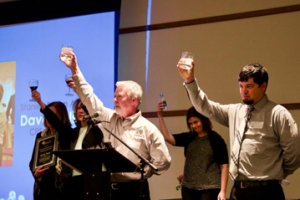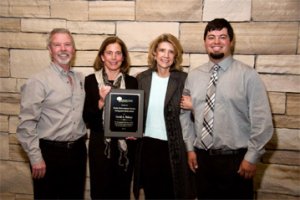 At ALCC's awards reception on March 29, 2017, Outgoing Executive Director Kristen Fefes presented the Stanley Brown Associate Member Distinguished Service Award to the family and friends of the late Dave Nelson of CPS Distributors, Inc.
In presenting the award, Fefes spoke of the award's namesake, Stan Brown, and his use of the word "fellowship" to describe how Colorado's green industry interacts and feels about one another. Those close ties bring people together and unite them as a company or as an industry.
"Dave is one of our suppliers whose presence created solidarity, partnership and camaraderie within the landscape industry," noted Fefes.
"Just 3 months ago, our industry family lost one of our well-loved and admired leaders with the passing of Dave Nelson, Director of Sales and Marketing at CPS Distributors. Losing him has brought great sadness and loss within CPS and throughout our industry family," she added.