We've all heard it and many live by it, "Time is Money!" and who doesn't want to save time on their irrigation projects? Finishing the job faster means increased bottom lines, more clients, and more success! Work smarter, not harder with our Top 5 Time Saving Irrigation Products designed to speed up your job times and increase your efficiency!
1. Blazing Self Tapping Saddles & Fast Fittings
Blazing Saddles are quick and easy to install with no tools required. In three steps, your saddle is installed, and you are ready to connect to your sprinkler head. There are no tools, clamps, or other materials needed. Patented lock ring technology slides back to lock the fittings into place while a Double O-Ring seal prevents leaks and provides a secure fit.
2. Swing Pipe & Fittings
Flexible Swing Pipe (Funny pipe) allows pipe to be efficiently routed around hardscapes, terraces, and uneven terrain. Swing fittings easy twist installation requires no glue or clamps. The enhanced kink resistance, quick and easy install allows for great time and labor savings.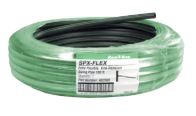 3. Push-To-Connect Brass Fittings
The push-to-connect system creates a simple and secure connection without any soldering, crimping or joining materials. Just push the connection tube into the fitting until is stops.
4. Irrigation I-Tool
The I-tool from King Innovation is a multi-tool designed specifically for use in Irrigation applications. Irrigation-specific tools allow Contractors to pull up sprinkler heads, adjust arc, remove sediment from nozzles, and punch precise holes in poly pipe. Unlike other Irrigation tools, the I-tool is compatible with all major sprinkler brands. Earn a chance to win an I-Tool through our 2019 Hunter Promotion at our CPS Tailgates! Learn more here!
5. GeoRipper & EZ Kart
The GeoRipper hand-held trencher is designed with your precious time and back in mind! The GeoRipper offers powerful tight space trenching  in mind while taking a small fraction of the time when compared to using a pick and shovel.  It is well suited for  irrigation installation and repair, low-voltage lighting installation, root removal, fencing and post digging, and other tasks where a narrow trench or shovel is needed. The GeoRipper is light weight, only 30 lbs., and when used with the EZ Kart, can offer even greater results by digging longer trenching runs and better digging depth control.
Contact a CPS Rep for a demo.