Professional seasonal lighting installation is one of the fastest growing segments for residential and commercial contractors. Many landscape, roofing, and cleaning companies are adding holiday lighting installations to their roster of services with tremendous success. Now more than ever, residential homeowners, municipalities, office buildings, and housing developments are hiring outside contractors to put up their lights and holiday decorations.
With typical residential installations running an average of $800 to $1,500, offering holiday lighting installation services can improve your business by providing continued income for you and your workers during Fall and Winter, decreasing layoff times for workers, and building relationships with new clients that could amount to substantial gains during the landscaping season. Last year, some sources speculate over 40 million households in the United States hired professionals to install their lights and decorations. Professional holiday lighting installations are growing  each year presenting a great time to get into an industry with great demand. So what are you waiting for???
Potential Earnings in Offering Holiday Lighting Installation
The holiday lighting season comes and goes fast. On average, companies getting started in offering holiday lighting installations will have a season that lasts 60-80 days. Like any other business, success depends on the aggressiveness and effectiveness of your marketing efforts, but assuming your marketing efforts are successful, and you have a good  crew of 2 -3 workers assembled, a small business can anticipate earning $50,000 – $80,000 in your first year. Contractors working alone will most likely earn a little less, but nonetheless, only working a limited time with earnings at or above $50,000 is not bad at all. After all, who couldn't use some extra dollars coming in around the holidays? Larger companies targeting municipalities or large commercial projects have the opportunity to earn far more during the holiday season.
Demand for Holiday Lighting Installations
In recent years, the trajectory of installation services, on average, has grown 35% year over year. Therefore, this coming year will see the potential of over 60 million American homes hiring installation contractors. Yikes! The demand is extraordinary!!! Established installation contractors find themselves turning down work each year, because they just don't have the time in the short season to meet the demand.
On the commercial end of holiday lighting installations, there is a similar high demand as residential is seeing. While residential installations help cheer up the family and keep up with the Joneses, commercial installations have been proven to drive sales for the businesses. A well-designed seasonal display, whether it's themed for Christmas or a more general holiday design, increases conversions and foot traffic by upwards of 30% for a store with decorations versus a store without decorations. While tougher to get the contracts as compared to residential, commercial contracts are extremely lucrative.
Holiday Lighting Installation Process
Once you have interest in installation services from a client, you'll offer a consultation for the project and a project bid. Preparation is key to your consultation. The best prepared contractors have examples of design options and different tiered pricing and service options. The goal is to match the customer's vision with what is possible within their budget and availability of inventory. During the customer consultation is a great time to discuss whether you will offer a service agreement that would include maintenance should bulbs go out. Also, you'll want to discuss whether you will take the lights down and store them neatly on the homeowner's or business's property, or store the lights at your own facility for re-installation next year.
The best way to learn more details about the consultation and installation process is to visit one of CPS's holiday lighting training sessions.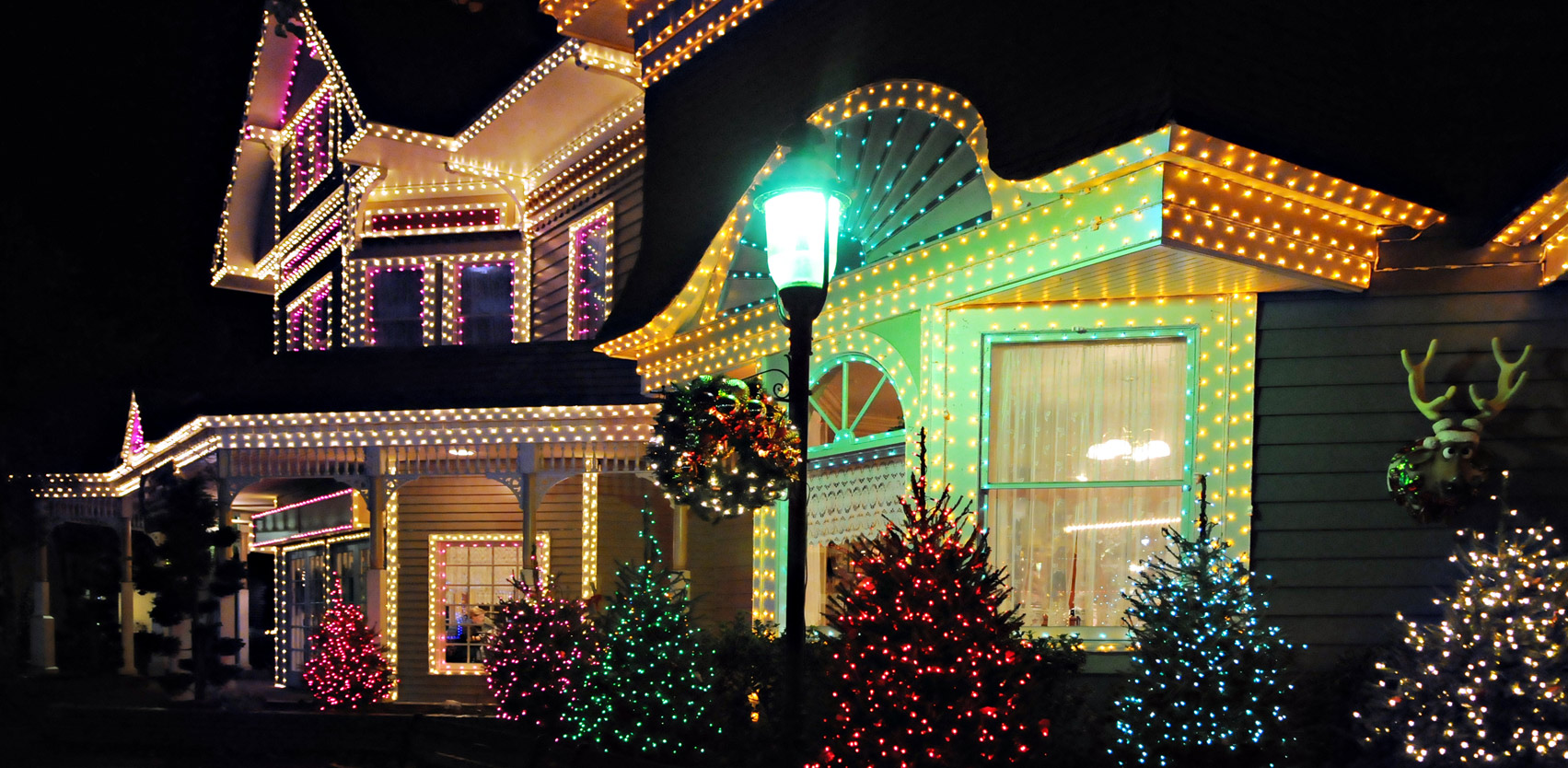 Skills Needed to Offer Holiday Lighting Services
Holiday lighting installation is a service that's based on basic skills and tools that requires no high-level certification, but basic training and safety considerations are essential to success and competence. Specifically, the most difficult things to learn are the bidding process and electrical considerations to be sure you're not overwhelming the circuits, blowing bulbs or fuses, or causing a fire hazard to your customers' property. These are basic concepts to learn, but at the same time you can't just dive into the business without going through some form of training because if you bid a job incorrectly, you could lose money and be out of business. If you don't take proper electrical considerations, you could cause a fire issue or even have a law suit on your hands. If you don't consider and improve all safety precautions, you may end up hurt or responsible for a worker's injury.
CPS distributors offers holiday lighting installation training at no cost to registered CPS customers. We are currently finished offering classes for the 2017/18 season, but customers are welcome to contact their local branch for instruction.
If you have questions about holiday lighting installation, products, or anything else please visit your local branch or call your local CPS sales manager for assistance.
Tools and Equipment Needed for Installation
Aside from ladders, staging, and other basic tools needed for installation, you'll need to consider the lights, strands, and bulbs you'll be using for your installs. Holiday lights sold at retail stores use low-grade wire, have poor insulation, and are a high fire risk. A professional lighting contractor would never install these types of lights on a professional project. At CPS, we carry only the highest quality holiday lighting options from the very best manufacturers. Additional tools needed might include step ladders, A-frame ladders, extension ladders, basic hand tools, electrical tape, pliers, screwdrivers, cordless drills, wire drills, a mini-light tester, and a volt meter.
Quoting a Holiday Lighting Installation
An accurate bid starts with careful consideration of your business cost of operations and overhead. Factors such as insurance, gas, truck maintenance, tires, employee wages etc. should be brought into consideration. From there, you'll need to consider the difficulty of the installation. For example, a multi-level commercial building presents staging challenges that a residential roof line may not and therefore should be considered. Once you've considered your overhead and the difficulty of the installation you need to have a bidding system dialed in that offers competitive pricing while being certain that your business remains profitable. Call your local CPS sales representative or attend one of our holiday lighting courses for more specific information on bidding a holiday lighting install.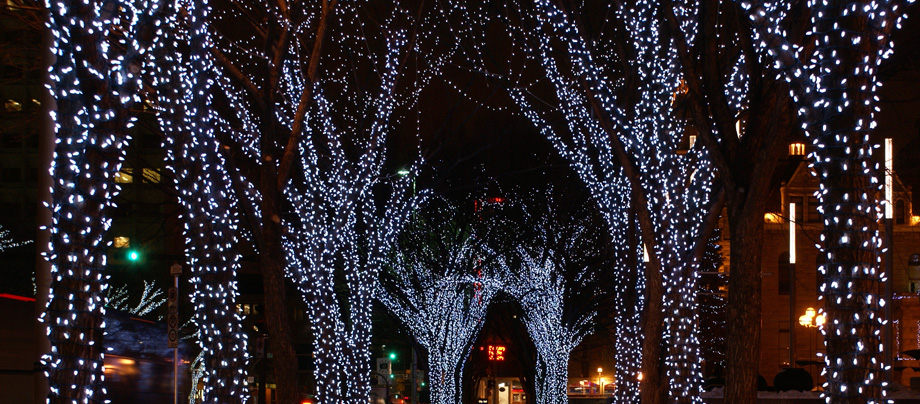 Best Marketing Practices for Holiday Lighting
Properly marketing your holiday lighting installation services is very important to ensure success in the industry. With such a large industry demand, contractors are seeing big returns from well-placed marketing efforts. The actual marketing techniques used depends on the size of your business, your advertising budget, and the size of the geographic area you are targeting. For smaller business, some tried and true methods such as using flyers, door signs, road signs, and direct mail will get a great return. Make sure all your marketing material is designed professionally. Often times, these marketing materials are the first impression your customers will get of your services so make sure it's professional. Holiday decoration installation services is a luxury service offering so keep in mind that specific cities or neighborhoods should be targeted or avoided accordingly.
For larger businesses targeting more commercial contracts or larger geographic areas, larger, more expensive marketing efforts such as billboards, tv, radio, etc. can be very successful, but will certainly cost much more than hanging some door signs or sending out flyers. Larger companies with higher budgets can also plan well in advance to set up well optimized web pages that offer their holiday lighting services to potential customers seeking installation contractors online.
Avoid These Common Mistakes
Lastly, avoid common mistakes that can stand in the way of your success as a new holiday light installation contractor. The biggest mistake you can make is rushing into the holiday lighting installation industry. With such a big demand, it's tempting to dive in without taking proper precautions like building a business plan, developing a effective marketing strategy, and carefully considering your overhead to properly bid projects. Be sure to train and educate yourself on electrical considerations, safety precautions, and good design principles to ensure success. Attend one of our free training sessions. Visit your local CPS branch and familiarize yourself with the available lighting options. Take time to understand the electrical considerations of the lights you're installing.
Once you've taken the time to properly educate yourself on holiday lighting installation and practices, developed a solid understanding of available lighting options, have a good concept of available design concepts, and have developed a well thought out bidding strategy to go along with a smart marketing strategy you're ready to go. Prepare to have a great time out there while making good late-season money. Installing holiday lighting can be one of the most rewarding facets of your job because you're spreading holiday cheer to your customers, while making some extra money for yourself and keeping your employees busy. Enjoy the smiles on your customer's faces, give your employees a little extra something for the holidays, and meet some new customers (and their neighbors.) 'Tis the season!!!